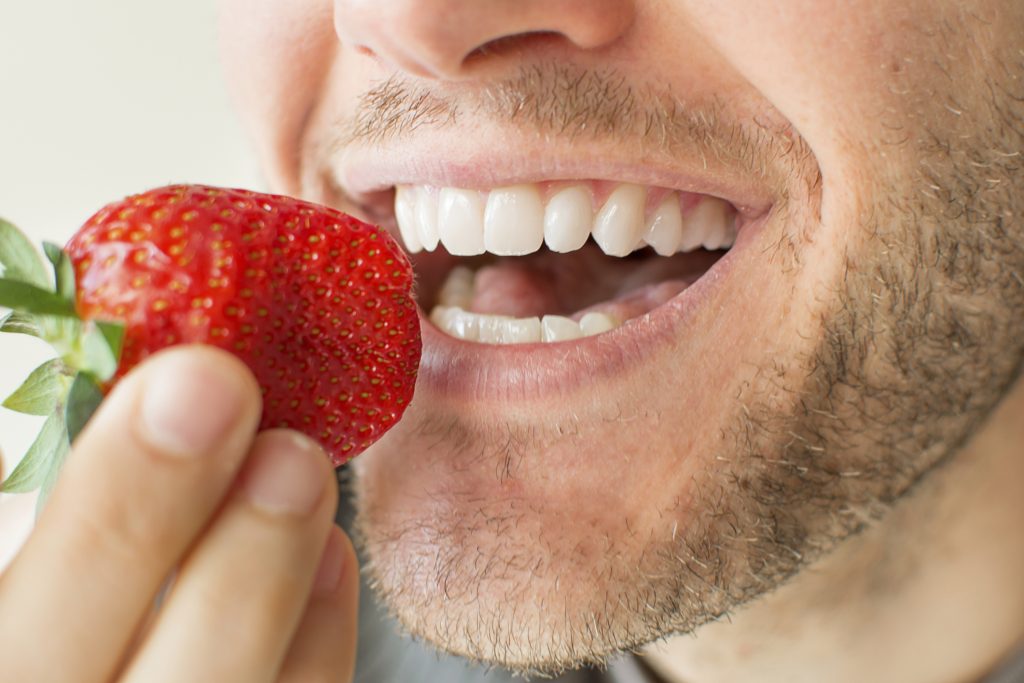 The more brilliant your teeth, the better your smile looks to everyone you're smiling at. The problem with white teeth really lies in the degree you take your oral hygiene. There's always over-the-counter versions and professional treatments to do at home, but what if there was a way to do it without going the chemical route? Here are some natural options:
Old reliable. You can find a lot of toothpastes with these ingredients, but if you want to do it DIY style, just drop a few drops of hydrogen peroxide into a little bit of baking soda makes a paste
Fruit. Strawberries contain malic acid, fantastic at breaking down stains so grab a couple berries, add about a teaspoon of baking soda & rub on your teeth for 5-7 minutes. Peel a ripe banana and rub a piece of the inside on your teeth for two minutes to brighten your smile in a very nutritious way.
Apple cider vinegar. Chances are you have some apple cider vinegar in your pantry. Dilute it with some water (3 parts water, 1 part vinegar) and mix it with an all-natural toothpaste, you've made a tooth whitening solution.
Coconut oil. Swishing coconut oil around in your mouth for 20 minutes is a possible solution to dingy teeth. Or heat a cup of coconut oil, add two teaspoons of baking soda and 5-10 drops of natural spearmint essential oil for a natural whitener.
Charcoal. One of the latest detoxifying trends is to use activated charcoal due to its porous nature. The recipe is simple: mix with a little bit of water, gently apply it to your teeth, leave to set in your mouth for two minutes, then rinse.
For more information about teeth whitening, call Dr. Andrey Eng in Yorba Linda, CA at 714-779-2736 or visit www.andreyengdds.com.
Dr. Eng proudly serve patients from Yorba Linda and all surrounding areas.